Currently Reading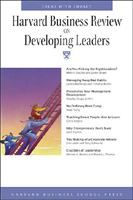 Harvard Business Review on Developing Leaders. It's a fantastic book with a highly eclectic collection of writing from awesome folks.
As I lead a department of driven professionals, my passion has turned to honing management skills which encourages folks to come out with their best. It's amazing how flexibility to innovate and the freedom to implement can bring out higher work results.
What books on leadership has impressed you?