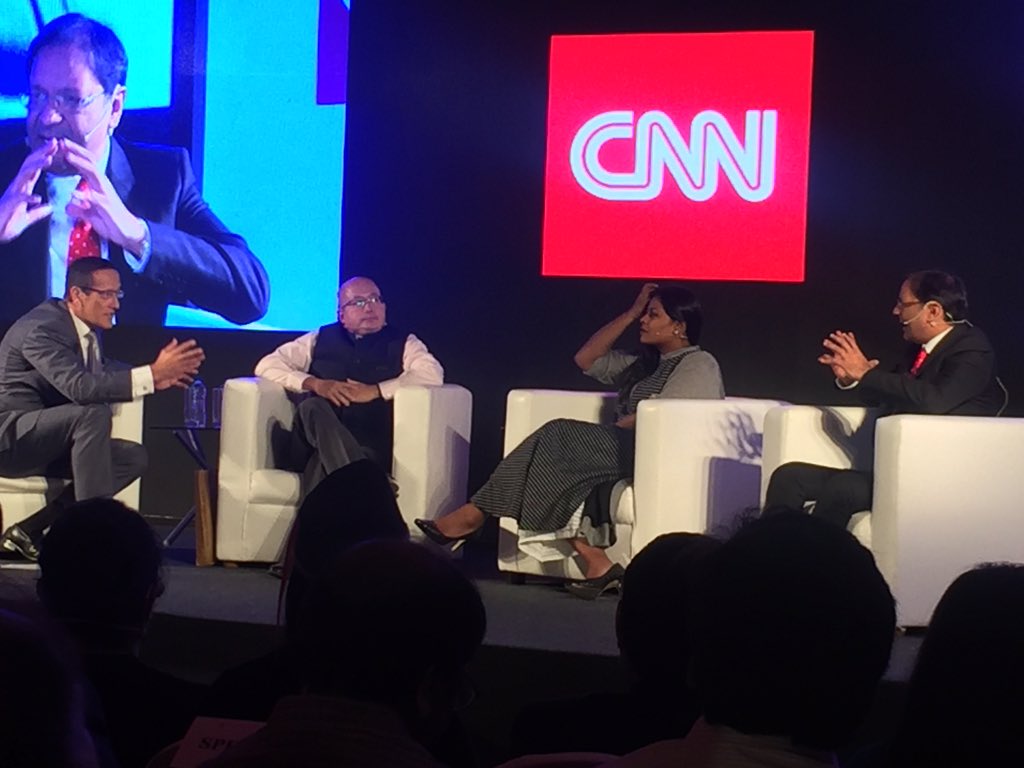 The 2nd edition of CNN Asia Business Forum took place in Bengaluru recently. The event had two clear focus areas. The first was centered on the burgeoning Aviation industry and the second focused on Digital & Technology.
I was particularly looking forward to the panel because I had an opportunity to study in-depth the three panelists that were part of the panel. 1) Ajay Singh, Chairman and Managing Director of SpiceJet, 2) Phee Teik Yeoh, CEO of Vistara Airlines and 3) Kanika Tekriwal, CEO of JetSetGo.
Earlier in the day, I had recorded interesting conversations with Ajay Singh of SpiceJet and Phee Teik Yeoh of Vistara Airlines as part of the 'Movers & Shakers' Podcast that I host on The Hindu Businessline. This helped me get an inside view of their businesses and their career growth. To me, listening to the panel discussion looked like a seamless extension of our conversation.
Here are the key takeaways I gained from the panel discussion.
Richard Quest, the ebullient business anchor at CNN, kickstarted the panel by saying the Airlines industry is a good way to become a millionaire. How so? Well, if you are a billionaire and you start an airline, you'll soon lose enough money to become a millionaire. And am sure everybody in the audience was thinking of Vijay Mallya.
What I loved was how Ajay Singh countered that. SpieceJet is an example of success. True, SpiceJet was losing Rs.3 crores a day (yes, a day) under SunTV's Kalanidhi Maran. But after Ajay Singh bought back the company he founded, he was able to turn it around in less than 3 years to a stage where the airline is now making Rs.1 crore profit every day. That is a fantastic turnaround.
Phee Teik Yeoh, the CEO of Vistara, the airlines founded by the collaboration of Tata Group and Singapore Airlines mentioned how external factors destabilize the growth of an airline. He took the example of airline fuel. India has one of the most expensive airline fuels and this year alone, the cost has increased by over 50%. This can eat into the profits of the airline and wipe away the thin margins.
Phee Teik agreed that the market for high-end business travel was not as high as they had expected. Vistara launched a few years ago and they positioned themselves as the choice for corporate executives. They had allocated a significant number of seats for business class and premium economy. Due to poor demand, they now had to cut back on the premium seats and increased the number of economy seats. This proves the fact that India is a price sensitive market.
Ajay Singh added a very valid point. The discerning Indian flyers want the following: 1) Fly from their city or town directly. 2) Pay as little as possible. 3) Fly on Time. If these three factors can be met, then they are happy. Anything else, like gourmet food, leg space, good looking staff is not as important as one would think.
Kanika Tekriwal, who built an amazing business on leasing the private airlines, was bullish on the future. It is interesting how she runs her business. She found that many rich individuals who had private airplanes were finding it very expensive to maintain them and they were losing money. That's when she approached them offered a solution that will not only take care of the planes but also earn them a profit from their planes. She has her own set of pilots, mechanics, and crew who take care of the planes. The people who hire the private planes can do so without the need to invest high capital for the planes but yet enjoy the luxuries of private travel. With the number of millionaires mushrooming in India, and with not much competition, she sounded very positive on future prospects.
Overall, it was a thoroughly enjoyable session. What I loved was the display of entrepreneurship and street smart approach that the panelists displayed while narrating their story.